At Tri Nature, we love anything which has been designed with sustainability and the environment at the forefront.
As much as we love our eco-friendly cleaning and body products, we also love finding design inspiration for making our homes as eco friendly as possible. Today I am going to focus on eco kitchen designs in particular.
Below I share with you my top 3 favourite eco kitchens designs. I hope these remarkable designs will give you some inspiration to incorporate into your own home – especially if you have been thinking about doing a kitchen renovation.
(Source: Breathe Architecture)
This suburban Melbourne home (winner of the Australian Interior Design Awards 2017) bases its entire concept on the biological term the "Halo Effect." The Halo Effect describes the fertile ecosystems that surround the icebergs in the Southern Antarctic Ocean. Subsequently, the outside of the home takes the form of a textural iceberg (made from recycled bricks) and yet offers a lofty refuge inside which aims to better serve the wellbeing of a large family. A clean, simple and robust materials palette take influence from nordic design, featuring light timbers, natural concrete, painted recycled brick and raw brass. All materials are locally sourced and environmentally sustainable where possible. We just adore the big kitchen with two fridges and two ovens (all powered by solar energy) to help the family run smoothly and efficiently.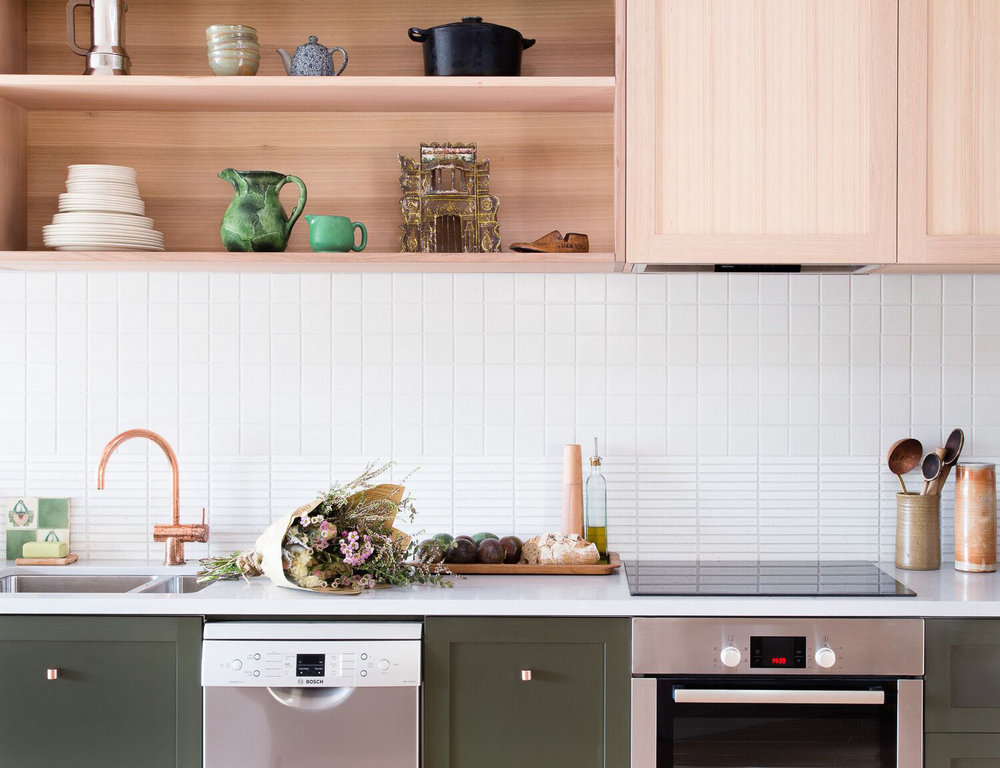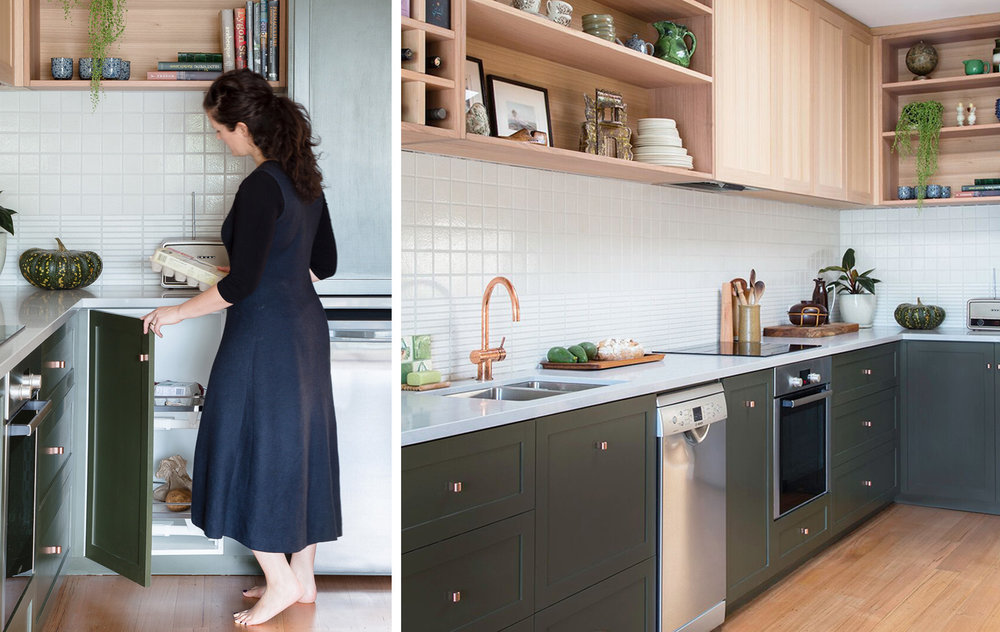 This Brunswick terrace home features a classically elegant kitchen which makes our hearts skip a beat. The home runs from 100% renewable energy via a solar system and 100% green power. Some of the key features of this kitchen we love are the green cabinets (handpainted in water-based paint so they can be repainted easily), un-lacquered copper cabinet handles and taps (chosen for their natural, microbial qualities) and exterior ventilated corner pantry rack which houses many perishables that only need to be kept cool, not cold, such as vegetables, fruit, bread and eggs.
Want some more tips on how to be more eco friendly in your kitchen?
Head on over to our blog on '10 Sustainable Kitchen Hacks'. It is a fantastic simple list of ideas on how you can be more environmentally friendly in your kitchen. Another great tip is to ensure you use planet-friendly cleaning and kitchen products in your home. At Tri Nature, we've removed harsh, aggressive chemicals and unnecessary fillers from your everyday household products.
Removing the nasty cleaning products in your home will not only reduce your environmental footprint but will be a healthier and safer choice for you and your family's health. You can also reduce your plastic consumption by trying our refill, concentrate and bulk buying options. For example, a 1-litre bottle of our Supre Multi-Purpose Cleaning Concentrate makes 20 x 500ml spray bottles of cleaner. Saving the planet and your wallet at the same time – win-win!
Emily
Graphic Designer / Digital Marketing
Aka: Mum of a big goofy Weimaraner, Coffee Addict, Creative, Big Dreamer and Environmentalist (On a mission to reduce my impact one step at a time).