I was recently introduced to the all-natural, plant-based range of cleaning products from 'Tri Nature'. I was instantly drawn to these products for their sustainable, eco friendly properties and due to the fact that they are not tested on animals. I've recently been trying to take a "greener" approach when purchasing general household items and cleaning products; cutting back on consumption, supporting Australian businesses and opting for eco friendly alternatives as opposed to the more commonly used, chemically laden products.
So, what is a plant based cleaning product (and why should I give two hoots!)?
Unlike standard household cleaners which often contain harmful ingredients like ammonia and bleach, Tri Nature products are derived from plant sources which won't cost the environment or your health. Tri Nature prides themselves on using gentle, premium quality ingredients as well as fully recyclable bottles and packaging for a very affordable price. All major wins in my books! I find traditional cleaning products are often greasy and just shift the grime around, leaving streak marks and grime on surfaces.
My 'go-to' Tri Nature products include the 'Optimate Floor Cleaner', 'Supre Multi-purpose Cleaner', 'Excel Bathroom Cleaner', 'Sphagnum Moss Disinfectant Spray' and I can't forget the 'K9 Pro Dog Shampoo'.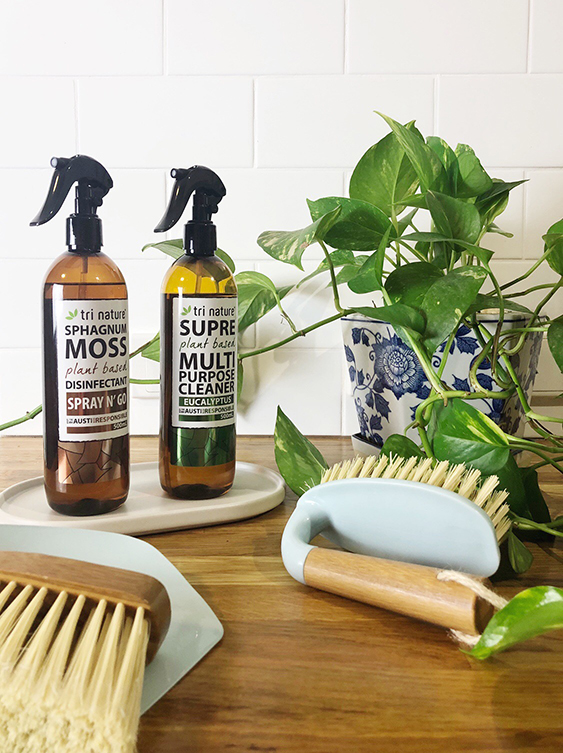 Let's look at these products in more detail…
1. I apply the 'Multi-Purpose Cleaner' daily. It's super easy to use, removes grease and grime from a variety of surfaces, performs well and creates a spotless finish (checking all the boxes for a sparkling clean instagram post. I mean… home! Ha-ha). Most cleaners are designed to leave a 'pleasant' smell, but I often find them unpleasantly overpowering, which is why I can't pass up the subtly fresh Eucalyptus scent when using the 'Multi-Purpose Cleaner'.
2. The 'Excel Bathroom Cleaner' is great for removing dirt and hard soap scum (because… yuck! Soap scum is just as the name suggests – scummy and gross!)
3. The 'Optimate Floor Cleaner' is a fresh, herbal concentrate which is great for delicately lifting all types of contamination from floors both indoors and outdoors.
4. 'Sphagnum Moss Disinfectant Spray and Go' is gentle yet powerful. It's particularly good on hard surfaces and best of all… smells of spearmint and musk; I absolutely love this scent!
5. Doggy Wash! We can't forget our beautiful fur babies. The 'K9 Pro Dog Shampoo' removes dirt, deodorises and leaves our Jacki Boi smelling as fresh as a daisy (or should I say, a mix of Tangerine, Ginseng & Rosemary). His coat looks thick, shiny and he is as cuddly as ever!
To wrap it up, if a squeaky clean, beautifully scented house is what you're after, and you are passionate about protecting our planet, I would definitely recommend making the switch to Tri Natures products.
Happy cleaning!
Emma-Rose – Interior Stylist
IG~ @emmarosedesign
http://www.emma-rosedesign.com/
We also think you might like: